Scott Roberts' Gargantuan Hot Sauce Giveaway Contest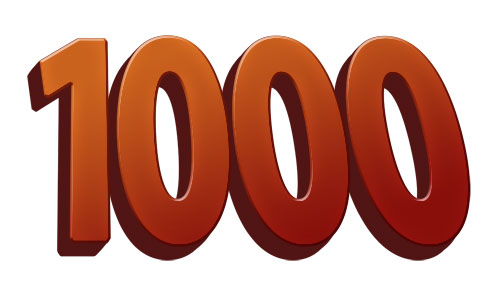 Have there really been 1000 official blog posts I've whipped up here on ScottRobertsWeb.com? Where has the time gone?!? It's been an absolute blast and a roller-coaster ride, and I look forward to many more years of doing this.
There's the obligatory list of people to thank for the success of this site. Unfortunately it contains far too many people to give a mention to everyone individually. You've all been amazing! So I want to give a shout out to my fellow bloggers for their friendship and support; ALL the chileheads and BBQers out there who love the spice and cook up great grub every weekend; all the hundreds of friendly industry folks who make tasty products, sell the products, and promote everything we love about chile peppers, sauces and seasonings; everyone who has allowed me to talk, write and collaborate with them, whether it be online, on a podcast or on the radio; my two boys, Cory and Kevin, for putting up with dad's hobby and for being the best kids any man could ever ask for; my Lord and Savior Jesus Christ; my girlfriend Mary Ellen who has been an unwavering rock with her love and encouragement; and lastly all the visitors and readers of this blog. I would be nothing without you as an audience!
I couldn't just let this 1000th post milestone pass by without a little fanfare. What should I do to celebrate? Hmmmm….
The Biggest Hot Sauce Giveaway in History
It's been a while since I've done a contest or a giveaway, so I decided to offer a sweet little prize pack to one lucky winner. Well, in all honesty it's pretty far from being "little" or diminutive in any way as it's truly the largest hot sauce giveaway contest ever! An unprecedented number of top specialty makers of hot sauce, BBQ sauce, seasonings and spices have volunteered to pitch in for this momentous occasion. Just peruse the chart below for a full list of participating manufacturers and the incredible products they're offering for the winner. This is a once-in-a-lifetime opportunity that such a gargantuan prize be awarded to some lucky chilehead!
Since so many people give given their support and friendship over the years, I couldn't let this huge contest pass by without me being able to "pay it forward" and give something back. My way of doing this is to require all entrants donate each least $1.00 to Step Up For Charity. As many of you hot sauce fans know, Step Up For Charity is the charitable organization founded by firefighter and former chile pepper grower and sauce maker Jim Campbell to help a number of worthy causes. Jim is thrilled to be involved in this, and I hope you folks don't let us down by giving generously.
You can choose to give the minimum $1.00, or a larger amount like $2, $5, $10 or whatever you can afford. You must send the money to me via PayPal, and I will pass on 100% of what I receive along to Step Up For Charity. In fact, I will eat up any fees PayPal takes out and pay for them out of my own pocket, therefore you can know that every single penny of what you're able to give will be passed on to Jim and his charity!
How to Enter
1. On the PayPal website under "Send Money", simply donate one US dollar or more to my PayPal e-mail address of sc***@sc*************.com.
2. Specify that this money is a purchase of "Services", and click the "Continue" button.
3. On the next page, scroll down to the bottom and put all of the following information in the "Message" field:
• Your First and Last Name
• Your Postal Address (NO PO Boxes allowed)
• Your E-Mail Address
• Your Phone Number
• Your T-Shirt Size, as a few of the prizes offered are shirts.
All entries must be received at the end of day on Friday, September 23, 2011 to be eligible. After the deadline, one winner will be chosen at random to win the entire prize pack, and all volunteering product manufacturers will be given the winner's address to that each of the donated prizes can be shipped.
So good luck to everyone, and don't forget to dig deep and donate generously to Step Up For Charity!
Official Rules
U.S. residents only. Limit one entry per household. All entries must donate at least one US dollar ($1.00 US) to Step Up For Charity to qualify. Any entry that does not contain all necessarily information (first name, last name, postal address, e-mail address, phone number, and t-shirt size) will be disqualified. All entries and donations must be received by 11:59:59 PM Central Time on Friday, September 23, 2011.
Scott Roberts and ScottRobertsWeb.com assume no responsibility for missing, damaged or broken packages. All volunteering product manufacturers assume full responsibility for the individual products they send, shipping and getting the packages out in a timely manner, and any possible damages incurred.
Here's What You Could Win: The Mega-Ultra-Super-Duper Prize Pack
A single winner will win ALL of the following delicious products from these esteemed manufacturers. It's a chilehead's and flavor lover's dream come true!


JAC's Tailgaters


One Grilling Sack
Includes:
• BBQ Sauce
• Mustard Sauce
• Q Rub
• Marinade
One Creole Sack
Includes:
• Gumbo Mix
• Étouffée Mix
• Jambalaya Mix
• Shrimp Creole Mix
• Bayou Chili Mix


Scoville Food Institute

• 2 bottles of their new Ch – Chipotle Hot Sauce
• One free Periodic Table of Scoville Units T-Shirt

Kato Productions

• One bottle of KATO's Island Sauce
• One KATO'S Habanero Chocolate Bar
• One vial of Butch T's Trinidad Scorpion Powder

Intensity Academy

• A Saucy Box Set valued at $25

Deano's Jalapenos

• Two bags of Deano's Jalapenos Chips

Crazy Uncle Jester's

• One bottle of Spontaneous Combustion®
• One bottle of Select Reserve™

Rooftop Barbeque

• One bottle of Rooftop BBQ Sauce

Wicked Cactus Sauce

• One bottle of Headhunter's Paradise
• One bottle of Viva La Raza
• One bottle of Aliento del Diablo

Benito's Hot Sauces

• One bottle of Chipotle Infused Maple Syrup
• One bottle of Habanero Infused Maple Syrup

CaJohn's Fiery Foods

• One bottle of Trinidad Scorpion Puree
• One jar of Trinidad Scorpion Salsa
• One bottle of Trinidad Scorpion BBQ Sauce

Cin Chili

• One package of Chili Mix
• One bottle of Serrano Hot Sauce

Dave's Gourmet

• One Superhot Four-Pack

Race City Sauce Works

• One Pandora shirt
• One Pandora poster
• One bottle of Pandora Sauce

Zane & Zack's World Famous Honey Co.

• One bottle of Stinger Hot Sauce
• One bottle of Four Brothers Hot Sauce

Heartbreaking Dawns

• A 3-pack of hot sauces
• One HBD T-shirt

Cholula

• One bottle of original Cholula Sauce

Blair's Sauces and Snacks

• One bottle of Mega Death in the Coffin Box

Blues BBQ

• 4-Pack Special of Blue's Habanero Reserve

Cajun Heat

• One Football Gift Basket

Char-Broil

• One Mopping Set

Defcon Sauces

• One Defcon Gift Pack

Flaming Joe's

• One Bottle of Hot Jerk Sauce
• One Bottle of Mild Jerk Sauce
• One Jar of Island Fire Tropical Fruit & Habanero Marmalade
• One Jar of Strawberry Jalapeńo Jam
• One Bottle of Buffalo Dust

Red Hot Robins

• One Bottle of Chipotle Mango Hot Sauce

Tom's Roid Rippin'

• One Bottle of Tapestry Hot Sauce
• One Bottle of Hot Cherry Pepper & Roasted Garlic Hot Sauce

High River Sauces

• 1 bottle of Hellacious Hot Sauce
• 1 bottle of Tears of The Sun Sauce
• 1 copy of the Mosh Potatoes Cookbook

Gunther's Gourmet

• One Jalapeno Salsa Fresca
• Cranberry Habanero Salsa
• Peri-Peri Dark Cherry Salsa

Judo Joel's

• One Bottle of Judo Joel's Asian-Infused Jamaican Jerk Maranade

DragonFire Hot Sauce

• 1 bottle of Mild Sauce
• 1 bottle of Hot Sauce Sauce
• 1 bottle of New Seven Zen BBQ Sauce
• 1 bottle of Naga's Revenge Hot Sauce

Houston Hot Sauce Festival

• 2 bottles of Festival Sauce

Big Fats Hot Sauce

• 1o8 Habanero Sauce
• 3o8 Garlic Ginger Sauce
• 5o8 Chipotle Sauce