Fiber Joe Interviews Black Market Salsa at the 27th Annual Fiery Foods Show
Christmas has come early for salsa lovers across the nation because you can now order our new habanero salsa, The Belligerent Batch, online!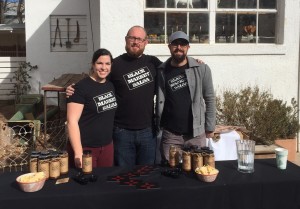 Our release party at the Farm Shop of Los Poblanos was this weekend and everyone had a great time! The response to the new salsa was excellent and everyone agreed it definitely had the extra kick people have been asking for. While the Farm Shop remains the only store you can purchase the new salsa from in Albuquerque, you can order as much as you like HERE from our online store.
We are very excited for everyone to try it, and if you are one of our Kickstarter backers, we have gathered all the surveys and will be putting the finishing touches on all of your reward boxes during the first week of January (we expect to ship it all out mid January).
Also, keep your eyes peeled for updates about in-store tastings during the next month or two. In the meantime, enjoy your holidays and all fun family times they involve!
Much love from the salsa crew,
Mike, Jen and Ben
Here is the interview from the show where i also got to try their product.

http://www.blackmarketsalsa.com/word/