Fiber Joe Interviews Hope Springs Gourmet Crackers at 27th Annual Fiery Foods Show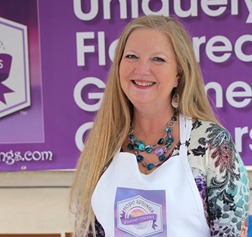 VIVIAN LEA
Founder and CEO, Vivian Lea, born in a long line of great cooks, combined her passion for cooking with a personal need to compliment her soup with an equally tantalizing cracker. Vivian experimented with flavor combinations that she shared with her friends. Vivian's friends enjoyed them so much that they encouraged her to share her crackers with the public. They knew that what she had made was something more than an ordinary cracker.
​ ​Developing recipes for years, Vivian finds cooking to be therapeutic. And now, she is proud to share her crackers with you!
FREQUENTLY asked questions (FAQS)
WHAT INGREDIENTS ARE USED?
Hope Springs Gourmet Crackers uses only natural ingredients with no dyes, preservatives, Trans fats, or sugars. Flavors are derived from blends of the finest spices and herbs.
WHERE ARE YOUR PRODUCTS PRODUCED?
Hope Springs Gourmet Crackers are proudly made in the United States of America.
WHEN CAN I EXPECT MY ORDER?
Order and Delivery time is approximately 2 weeks. You will receive an email confirmation with details of your order. Soon we will provide a list of retailers that carry our product line.
WHAT KIND OF PACKAGING DO YOU USE?
Hope Springs Gourmet Crackers uses recycled and/or compostable packaging whenever possible and encourages customers and clients to recycle as well.
CAN I ORDER CUSTOM FLAVORED CRACKERS?
Hope Springs Gourmet Crackers will gladly develop a custom cracker for events, catering, and restaurants.  We require 30 days for development, which includes sample tasting, manufacturing and shipping. Cost will vary depending on ingredients. Minimum orders will apply.  For more information contact us at in**@my*************.com. Include "Custom Cracker" in the subject line. Custom orders are for special occasions and not for wholesale or resale purposes. Hope Springs Gourmet Crackers reserves the right to add any developed flavor to its product line. All Hope Springs Gourmet Crackers recipes are proprietary.
DO YOU HAVE GLUTEN FREE CRACKERS?
Hope Springs Gourmet Crackers is happy to announce that we now have three flavors of Gluten Free crackers.
WHAT IS THE SHELF LIFE OF YOUR CRACKERS?
Typically crackers have a shelf life of 4 months if stored in a closed container and cool dry place. Crackers can be frozen for up to 6 months.
DO YOU HAVE SALT FREE PRODUCTS?
Most products can be produced salt free per request. Order and delivery time may vary and a minimum order may be required. For more information on salt free products, contact us at in**@my*************.com. Include "Salt Free Product" in the subject line.
Are You a Retailer, Restaurateur,
Event Planner, or Caterer?
​
Rosemary, Thyme & Parmesan
Green Chile Rice
Cheesy Potato
Mexi-Fiesta
Sun-dried Tomato
​Salty Dill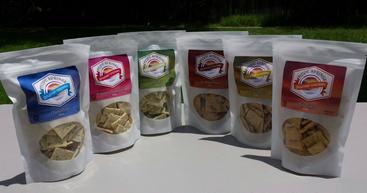 CUSTOM FLAVORS
​ If you have an idea of a particular flavor you want for your event, store, restaurant, or catering event, we welcome your ideas to help provide you with the best product possible.
​
Contact us at in**@my*************.com with your request.
http://www.my-hope-springs.com/