This month definitely needs a new name.  It is such a negative to say NOvember.  So for the rest of this column we are only going to refer this month in the positive and rename it as YESvember.  Hey, it is such a great month with the beautiful colors of Autumn spreading across our great land.  It is also a great foodie month with Thanksgiving bringing such great traditional dishes, and a chance for the Chilehead in all of us to spice up some of the dishes.  Well, most families would object, but if you have a good turkey-enhancing table sauce or two, then you can still put the THANKS in Thanksgiving.
There are not a lot of cranberry hot sauces out there, but if you know of any that you would like to recommend to the readers, please add it in the comments below.  I want to recommend a wonderful Cranberry BBQ sauce from Big Butz BBQ Sauce, even if it isn't hot in anyway, a good Chilehead knows just how to fix that minor problem.  You want to find a good cranberry spicy product, then please check out this list I found in a search at iBurn.com.  There are two pages, so do not overlook the other great cranberry products on page 2.  Bigfats Hot Sauces has one on sale there with Cranberries and pumpkin in it called, Cran'kin.  It doesn't get anymore Pilgrimesque than that Autumn combo.
Another product I should not really recommend, because the creator, Johnny MacLaughlin has ceased making it as part of their primary product line.  It is one of my all time favorite preserves ever made, and sharing it at this point reduces my chances of getting more.  This product is called Fiery Trail Preserves.  I am not sure how many are left in stock, but iBurn has some as I type this.  If you want it, then you best get you some.
One last company I want to mention before I move on, and that is
Dragon Blood Elixir
.  This is a company that it is very important to check out their
Facebook
page before you order anything from them because they make seasonal creations at the drop of a hat.  Owner, Douglas Crane is one of the best creative minds this industry has at the moment, and you do not want to miss out when he announces his Autumn seasonal spicy product line.  Hell, you do not want to miss out on any of his seasons, but if you like Autumn flavors, then this time of year is crucial because of their huge following and limited number of products that come available.  They are not listed on their website, so you have to watch their Facebook page.  One that is on their website and I love, is his Maple Roasted Apple hot sauce which is usually available all year round because he lives in happy apple country in Woodstock, NY.  Yes that Woodstock.  Do check his FB and website pages out, and if you ever see anything made with bacon, you best be putting that on your must have list.  Just sayin'!
On the east coast we call our big food stores, Supermarkets.  I am not sure where it came from, but there is usually nothing super about it.  Just a big grocery store with lots of choices in it.  In my area we have a new Whole Foods, a new Fresh Market and a wonderful Wegmans if you want great produce.  The fruits and veggies are great, their butcher, deli, cheese, and bakery departments are like individual stores with oodles and oodles of choices.  They also are very good in putting together some great recipes for the holidays which also includes prepared meals for those not interested in doing too much in their kitchens. Yet, there are those of you that think of Thanksgiving as the day to let your culinary flag fly high and teach your table side gobblers a thing or three about flavor.  Do you have a recipe to share?  Please add it into the comments below.
Speaking of Thanksgiving recipes, I have to hand out some serious kudos to Chile Pepper Magazine for their awesome Chilehead Holiday Feast Issue.  If you do not subscribe to CPM, then you are missing out, but nevertheless I would recommend to at least download or purchase this issue at your local newsstands.  Click on the picture of the magazine below, and it will take you right to their digital copy.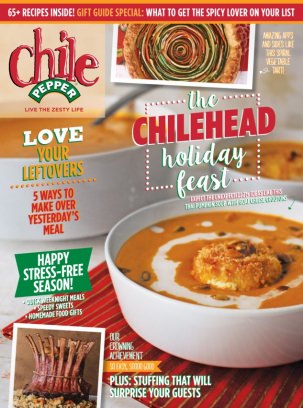 The recipes in this issue range from traditional to non-traditional fair which you can find in the Anti-Holiday column.  One such dish is Mom's Pineapple Bake, something that I will be making in the near future.    There are so many recipe columns covering every inch of the holiday tradition.  The sides are mouthwatering and the leftover inspirations are just that, inspiring.  Look for Spud Central for some great potato dishes and the "Stuffed" column is filled with some different ways to make stuffing.  The pictures will make you hungry, so please do read with a full tummy.  One of the features in this issue is the Holiday Gift Guide 2015.  There are some great gifts here that need mentioning like the instant marinating container and vacuum pump, which will speed up the marinating process from hours to minutes.  There is also an Electric Water Bath Canner and Multi-Cooker from Ball.  It says it is really good for high-acid canning recipes like salsa and preserving peppers.  There is also Belle Isle's Honey Habanero Premium Moonshine.  I did not know moonshine came in a premium way.  Good to know.
Towards the back of the magazine is a gem from John "CaJohn" Hard, the first year Hall of Fame Inductee, and most award winning hot sauce maker of all time.  This article is like picking his brain on how to make your own hot sauce.  He gives us 3 hot sauce recipes using the Scotch Bonnet.  He gives us the ingredients and the steps it takes to make a traditional, a Caribbean fruit-based, and a Calypso hot sauce.  Is there a better authority on the planet to get a hot sauce recipe from?  Lets face it, this is one of the best issues Chile Pepper Magazine has ever put forth, and that was before I even brought up CaJohn.  Do yourselves a favor and get this issue before the holidays are here.
Every year before Thanksgiving I organize a special Holiday Sale with some of the great sauce makers in our industry.  Many of them will kick it off around Black Friday or Cyber Monday.  Some continue it through to December or start a week before Thanksgiving.  Whatever it is, please keep a look out for it in the Chileheads group within a week from now.  If you are a spicy product maker or a fiery food retail store or have something of interest for the Chilehead, please add your name and sale with dates in the comments below or when I post it up in the Chileheads two groups.  I will share it with other chile blogs and whomever wants to post it.  This is like the 4th year of doing this and we have had some great deals in the past, and I am sure some great ones to come.  Add FREE SHIPPING, even if you have to raise your product costs to make our shipping experience easier when we hit the shopping cart.  It will help, believe me.
Last, but not least, joining our great cast of writers is the infamous Creator of Defcon Sauces, John Dilley.  If you know The Creator at all, then you know John has never been at a loss of words.  On a weekly basis his Facebook posts have a certain flair to entertain, enlighten and educate at the same time.  He has plenty to say and we are happy to give him the forum to do so.  Whilst his DEFCON-versations live webcast is on a temporary hiatus, this will be the column version of that offering.  Thanks for coming on board John.
YES-vember is off and running and we hope this month's newsletter brings you a warm, comfy-cozy feeling that you've been missing in your life.  12 articles this month, and we hope you find one or more tailored just for you.  Comments of all kinds are always welcome.  Thank you for your time.