Lenny Awards – Best Spicy Products of 2018
Welcome to the 9th Annual Lenny Awards. We are going through major changes this year, and will update you in the days ahead. First and foremost, the Lenny Awards are dedicated to my Dad who passed away on this date, December 19th, 2010. He was a man that would help people whenever he could, just because he could. These awards are a tribute to him, Leonard "Lenny" Goldenberg, and the way he unselfishly lived his life for others, even total strangers. I give these awards out for the best spicy products that I encountered from Last Year's Lenny Awards through this year, 2018.
With the passing of my Mom, this past June, I am dedicating the Best of the Year Award in her name, and calling it the Helen Ruth Goldenberg Memorial Award, and it will be different from the Lenny of the Past. It is also dedicated to all the Mom's out there that raised their kids the right way. I hope I can be a symbol for her work for the rest of my life. As you can see I loved both my parents very much.
Speaking of the Lenny itself, I learned 3 days ago that the actual award is being discontinued, so I am in a search for a new award to replace the prestigious one of the past. I have a few candidates right now, but not sure which one will be able to fit into my budget at the moment. I am just a USPS employee, and the cost has to be reasonable. These are a few I am pondering at the moment:
So you can see I am looking for a nice replacement that fits the bill. Along with one for my Mom Award. The photo below is more like an expensive version of the old Lenny Award and I wish it was cheaper, but I could go with this one for the Best Spicy Product of the Year. Check this out…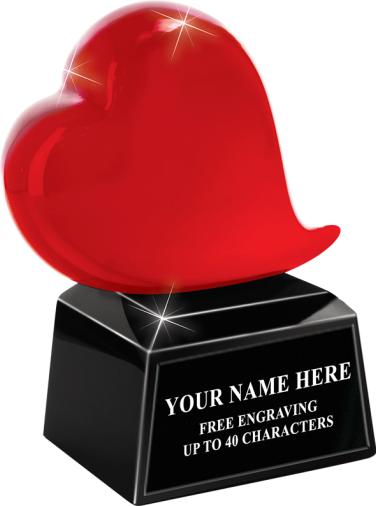 As you can see it comes pretty close to the original version I have used for the past 8 years. Anyway, you can watch the video for the presentation and back story for each and every winner this year. You can see the list of the companies below, both winners and honorable mentions. Thanks for coming by for this year's Lenny Awards. Congrats to all the outstanding companies and winners this year. A very happy and safe Holiday and New Year to you all.
List of Lenny Award Winners and Honorable Mentions:
Mama Kicks/Double Take Salsa Company
http://www.doubletakesalsa.com
Please inquire on how to buy their new Jerk and other new marinades
Phone: 612-578-3331
Email: in**@do*************.com
Kim's Gourmet Sauces & Marinades
https://www.kimsgourmet.com
Phone: (303)961-5911
Email: ci***@ki*********.com
Butterfly Bakery of Vermont
46 Gallison Hill Rd
Montpelier, VT 05602
Website: https://butterflybakeryvt.com
Phone: 802-310-1725
Email: Cl****@Bu***************.com
Rising Sun Pepper Farms
PO Box 31
Rising Sun, MD 21911
410-658-9416
Annette Moore, President
FACEBOOK PAGE: https://www.facebook.com/rising.farm
Palo Alto Fire Fighters
http://paloaltofirefighters.com/
Stephanie Walker – Account Services
e-mail – st*******@pa******************.com
Erik Taylor- Operations Manager
email- er**@pa******************.com
Office Phone 925-628-6814
Monday-Friday 9am-5pm PacificTime
Lee Taylor- Founder / Owner
e-mail – le*@pa******************.com
Dragon Blood Elixir
https://dragonsbloodelixir.com
Facebook: facebook.com/dragonsbloodelixir
Email Doug: do**@dr****************.com
Horseshoe Brand
https://www.horseshoebrand.com/
Phone: 845-240-2390
For wholesale or retail Inquires, Contact us at sa***@ho************.com
Super Spy Sauce Co.
https://www.superspysaucecompany.com/
Phone: (225) 413-8903
Volcanic Peppers
https://www.volcanicpeppers.com
Email: su*****@vo*************.com
Old Agness Store
https://shop.oldagnessstore.com/index.php?route=product/category&path=68
34414 Agness-Illahe Road
Agness OR 97406
Phone: (514) 247-2032
New England Sauce
https://newenglandsauce.com/
ne*************@gm***.com
Sam & Oliver, LLC
http://www.samandoliver.com
Phone: (484)-682-5268
Email: Je**@Ma*******.com
Kumana Foods
http://www.kumanafoods.com/
Call (213) 986-5799
he***@ku*********.com
Habby Fruit Hot Sauce
http://habbyfruit.com/
ha********@gm***.com